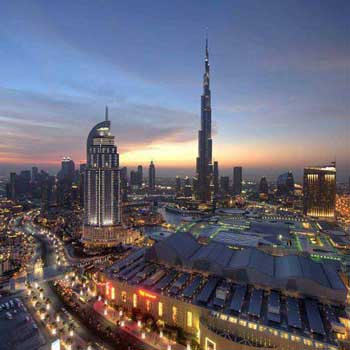 1. Our 4 hour Dubai city tour would take you to the most prominent places in
Dubai. You also get to see two different sides of Dubai, the historical one
and the modern one. Beginning with the Dubai Museum, located in the Al
Fahidi Fort (built in the 18th century), you get to see Dubai before it
discovered oil and became the power city it is today. This is followed by a
drive along the Dubai Creek, which is a historical area and still holds
remnants of the past. You get to enjoy Arabic architecture with a visit to
Jumeirah Mosque, which is the only mosque in Dubai open to non-Muslims.
So, make the most of it. While the historical part of the city is quite
interesting, your Dubai city tour would not be complete if you do not see its
modern side. The tour takes you Hotel Burj Al Arab (which is designed in the
shape of a sail), the Palm Islands (largest artificial island in the world), Hotel
Atlantis the Palm (the crowning glory of palm Jumeirah), Jumeirah Beach and
Burj Khalifa (the tallest building in the world). The tour also includes a drive
along the Shiekh Zayed Road so that you can take a look at the skyscrapers
and magnificent buildings on both sides of the road. This tour package by us
has been designed to cover the most important places in the city of Dubai.
This tour package is perfect for those who want to view the entire city of
Dubai in a short period of time.
2> Dubai's Burj Khalifa, the tallest of all the buildings in the world, stands tall
and proud amongst the other skyscrapers of the city. One of the major
landmarks of the city, the interiors of the Burj is as majestic as the steely
exterior. Take a look at the marvellous building from the inside by joining the
Dubai Burj Khalifa Tour with us. During the tour, you are shown a multimedia
presentation about the history of Dubai as well as the story of the
construction of the building. Once you have gathered information about this
tall structure, you are taken to the 125th observatory deck (At the Top) on
the fastest elevator. Here you get a chance to have a 360-degree panoramic
view of the entire city of Dubai. This is one tour that you should definitely not
miss when in Dubai. So book your tickets today for a tour of the Burj Khalifa.
Meals : BREAKFAST AND DINNER