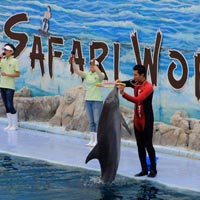 Breakfast at hotel.
8:00 hrs Meet our staff in your hotel's lobby.
Depart for Safari World, is a drive-in zoological park divided into two parts. The first part is Safari Park, an open zoo with wild animals.The second part is the Marine Park where there are a variety of marine animals and shows of trained dolphins, birds, seals and apes.
09:30 hrs Arrive Safari Park, stretching 5 KM and lasting 45 minutes, a drive through the scenic Safari Park presents a unique opportunity for the closest encounter possible with rare and endangered species of the animal kingdom. Explore Nature's numerous wonders in their original splendor and respond the call of the wild, while remaining in the comfort of our private car or coach. Witness the truly breathtaking Tiger & Lion Feeding Show the only one of it's kind anywhere in the world.
10:30 hrs Explore Marine Park where there are a variety of marine animals and shows of trained dolphins, birds, seals and apes.
Show program
Orang Utan show: Weekday 10:20 Weekend 10:20, 15:45
Bird show: Weekday/Weekend 10:20, 15:40
Sea Lion show: Weekday 11:00 Weekend 11:00, 16:15
Elephant show: Weekday/Weekend 11:40
Cowboy stunt show: Weekday 11:40 Weekend 11:40, 16:40
Dolphin show: Closed for maintenance. That will be upgrade to modernization.
(between Mon 04 September 2017 - Fri 03 November 2017)
Spy War: Weekday/Weekend 14:30
Tiger feeding in the Safari Park Open Zoo: 9:30 (Join tour cannot see this show)
Orang Utan Boxing Show - Man's closest cousins take center stage as they tickle you with their keen sense of humor and dazzle you with their mathematical gifts. And who could miss world-famous Thai Boxing Show, starring the funniest and hairiest champions.
Bird Show -Stand by for a stunning show as our colorful performers take a plunge from the arena to the stage. Watch with amazement and bewilderment the acrobatic and athletic skills of these intelligent creatures and share in the intimate secrets of a pair of lovebirds. See how our feathered friends fly their way to your heart.
Sea Lion Show - -Lighthouse Cove- will never be the same again with its new occupants. This quiet town along the pacific coast will be turned upside down when our Sea Lion friends wreak havac as they pull one trick after another. Chiefs of Mischief take control.
Cowboy - Let Safari World bring you straight into the law territory of the wild wild west, where cowboys and bandits jostle for power with the intricate knock-downs, gunfights, bullwhips, fistfights and horseplay. Run for your life as explosives are hailed in your direction. Gasp and then dheave a sigh of relief as stunts-men perform life-threatening stunts right before your very eyes. Participate in the funniest goose-chase peppered with the least expected of dramatic twists and turns!!!
Dolphin Show - (Closed between Mon 04 September 2017 - Fri 03 November 2017) the most intelligent of marine creatures will captivate you with their effortless mastery of the most difficult tricks! Get them to kiss you or shake hands with you! Marvel at dolphins somersaulting in mid-air, tossing balls with their fins and singing in a chorus, or performing dives unrivaled in their gracefulness and swiftness.
Spy War - Our secret agent Sean Sacco has a mission to fulfill : to get Doomsday Trigger before Mako gets us. Join Sean as he combats difficult terrain and heavy enemy gunfire to stop Mako in his tracks. Hold on to your seats as the action unfolds amidst a sea of rapid crossfire, thunderous explosions and breathtaking para-trooping stunts in a state-of-the-art amphitheater. A Truly earth-shattering experience not to be missed!
16:00 hrs Depart from Safari World to Bangkok
17:00 hrs Return to the hotel
Meals : Breakfast, Lucnh